I suppose I used to be the same way, but now it really bothers me when people react so indignantly towards people who regard their anime-styled art negatively. I don't think the debate should really be centered around creativity though. Creativity is too subjective of an adjective and just inherently not worth the grief that a debate on its definition or application would cause. It isn't about anime having just one distinct style that people copy because I'll be the first to agree that there are hundreds of completely different styles within anime and manga and that it isn't just defined by big eyes, little noses, and weird hair. It isn't even just anime, but any pre-existing style, be it that Western superhero look, the Disney style, or the Jhonen Vasquez style.
Instead, I think the issue should be more about how so many people use these styles as a crutch and how and why it hinders their development as artists. If you're only drawing as an unimportant hobby, and if you have no real desire to improve, then I guess it doesn't really matter. But if drawing means something to you, and if you really want to get better, then it's really imperative that you work on the fundamentals: it's imperative that you draw real things, that you draw what you actually see.
Most professionals are able to draw in a realistic manner, regardless of what their actual commercial work is like. Mickey Mouse doesn't really look anything like a mouse, but I'm sure Walt Disney drew plenty of real mice in his sketchbooks. Sometimes, I'm really not sure what the hell CLAMP is thinking in terms of anatomy, but I'd like to think that they are actually perfectly capable of drawing realistic humans and that their anatomical exaggerations are done completely on purpose. Honestly, I think it's embarrassing otherwise. Take Rob Liefeld for example; the man is notoriously inept at rendering believable anatomy, especially in women, and even though his style sold comic books in the 90's, there has been rampant criticism of his obvious weaknesses. I get the feeling this is because all he did growing up was copy comic books without understanding any of the hows and whys; thus, because he never studied real anatomy or real people, everything he draws is wildly off. The sad thing is that he still doesn't seem to have realized this, and much of his recent work is still filled with inconsistent flaws.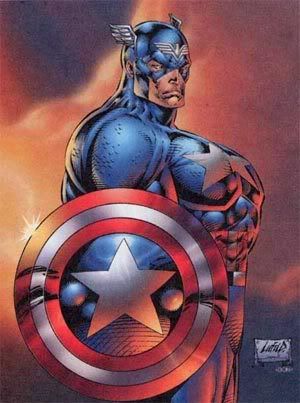 It's fine if you start off copying anime you like, styles you like. My first foray into drawing humans was basically copying and fanarting Sailor Moon (before that, I mostly drew animals). Ridiculously long legs and big eyes galore! I got more "serious" about drawing humans when I got into Dragonball Z. Hello spikey hair and gigantic muscles! You have to realize after a while though; Akira Toriyama draws eyebrows attached to eyeballs and it's kind of creepy… and also, half of those muscles probably don't exist. But I also believe that Toriyama has done drawing studies of real people with real anatomy, and that he could draw a realistic person if he wanted. Drawing off of someone else's style is okay for a start, but eventually, you need to stop taking their word for it. The world isn't actually how so and so draws them.
Take a look at the real world. (Highest definition graphics! No lag!) Take a look at real people. Draw it. Draw them. Look at real fingers and real faces and real arms and muscles and body structures. You shouldn't be able to break the rules without knowing what they are first. You can't draw a highly-stylized caricature without first knowing what the person actually looks like. It's easier to make things up when you know how they actually are. You can't make up convincing folds in imaginary clothing without having first drawn dozens of real folds from observation.
"When I was in college my art teacher yelled at me for drawing anime facial features instead of realistic ones…but I was like sorry I can't suddenly draw realism when I've been drawing anime style for 4 years."
Quotes like that really strike me. It's true — you can't suddenly draw realistically if all you've been doing for years after years is focus on someone else's style. Or even if you've cobbled together several other people's styles and have forged something for yourself out of the chaos, if you don't understand why you draw things the way you draw them, then you own nothing. Why are arms shaped this way? What are all of the subtle curves and bumps in the contour? If you mimic a style, but don't understand the underlying structures, it's hard to fabricate different poses and pictures for which you don't have a reference. If you don't understand what's under the drawing, you can't do as much on your own — at least not convincingly.
But if you understand realism, then you can make anything out of it. If you know that ears are the same height as the distance from your brow to your nose, you won't have proportion issues no matter what angle your head is turned to, no matter why style you're drawing in. If you know that the distance between your eyes is one eye length, you can apply that knowledge to any style and it won't look weird. If you know that your foot is roughly the same length as the distance between your elbow and your wrist, you can exaggerate accordingly if you want someone to have bigger-than-normal feet or smaller-than normal feet. If you understand the real structure of the face, then you can exaggerate certain portions of it to your desired effect. Bigger eyes and mouths portray more emotion, and smaller noses are a side effect of that. If you don't know any of these things, and if you're only drawing based on someone else's drawing, then what are you going to do when things don't look right? Will you realize what you've done wrong? And if you don't, how can you improve?
Like I said, if you have no real desire to improve, then that's your own business, but especially for those that entertain the idea of doing art for a living — drawing your own comic, among other fantasies popular in the community — drawing from life and studying realism is an invaluable fundamental. This is not to discourage you from drawing in a style — I mean, come on, my art is predominantly "anime-styled" — but your stylized drawings look so much better when you actually have a grasp of what's real. So I can definitely understand why art teachers and professors across the planet are inclined to frown when all you want to draw is anime. It isn't that anime is uncreative or unoriginal so much as the style becomes a crutch. If you don't want to draw realism, then you won't improve.
Don't be so indignant. It's for your own good. Once you prove you can draw for realz, I'm sure they will have no problem letting you draw your silly animu and mango.
Theoretically Similar Posts: